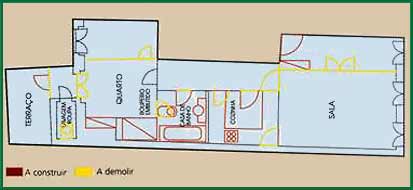 Big differences

The kitchen has been moved from the back to the front of the apartment near the living-room. The room is now in the former kitchen. The corner of the chimney is now a wardrobe. The pantry is now the bathroom. Where the toilet was, is now the laundry. A small terrace was built, near the access to the roof, where one can rest bathed by Lisbon's light.
B

efore there was a wall dividing the living room in two, and a tiny room, with two doors, where the kitchen was built. Now, the corridor links the living room (an open space now) to the room - at the other end - with a wardrobe where there was a chimney. The new kitchen's door was also closed and in its place is now a more functional window.



before



during


I

t was one of the many doll's house, spread through old Lisbon, full of rooms that made it seem bigger. Even though the house is still small, it became graceful and dynamic with open spaces adding up to less rooms and more functionalism. The renovation was done - as if in the last century - using very old techniques. People think those thechiques have vanished, but there are still those who make them revive. There are many who amire them and few who don't let them die.



afterwards
T

he truth is, there are still technicians who defend this kind of strips of wood and mortar walls, and the interests of our architectural patrimony, making of these houses and apartments in Lapa true exemples of their love for the essence of things. And after all the teaching of the Marquis of Pombal woodframe wall experts were not in vain. It seems sometimes easier to demolish and use briks than to rebuild the network of the old walls lamenting stories and plots. Better still is to know how to respect them.