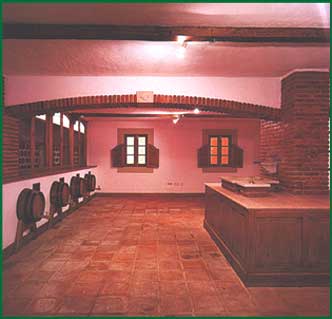 Only then could we apply the old stone sink, coming from a demolition, over a normal cupboard, where before there was only an azulejos lining. And another one, in the previous corner where the dishwasher was hidden. False cupboards were fixed to hide console brackets holding the house structure. At first, the barrel tops were only ornamental, but with some skill it was possible to create inox barrels behind - enclosed within the console brackets - with around 15 litre wine containers. The barrel bases were used to put a counter with a cupboard for china on top. Very different from the previous wine cellar, surrounded by uncharacteristic azulejos.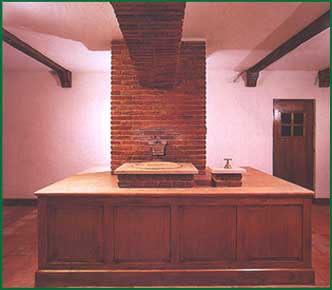 Using once again the console brackets, a new counter was created including a sink. The previous counter was just a small rectangle to put for instance a cheese tray or some large bottles of wine. The stones now used in this sink were aged so as to look rustic. All taps are old and were purchased in Feira da Ladra being then carefully cleaned. The ornamental old ring to held harnesses and the original stone spout are also old. The bricks and pavement tiles are all handmade.
The two arcs ornamentally enhance the use of the structural beams. They were covered with tijolo-burro (thick and compact bricks), presenting a closing stone created on purpose, after being aged. These beams used to be cold and skeletal. The ceiling and wall were coated with plaster using traditional lime mortar. But the beams are not just ornamental, as they also hide the electrical cables that were all replaced.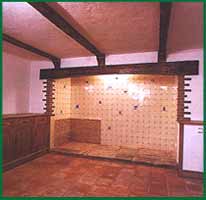 The small windows at the level of the outside pavement remained as they were but two others were enlarged on the concrete wall, a little bit further, so the wine cellar would have more light. A typical Alentejo chimney was recreated with its small fire corner, and true old flagstone floor in the inside. The hand painted azulejos have the old shape 14x14 and although recent they were handmade.

From the outside nobody will tell there is a wine cellar behind the normal door. But this door opens to another door - a typical Portuguese door - forming a kind of double entrance. Only then the scenery is complete.